You do YOU, boo!

---
---
Go Ahead - Be Cringe!

Thoughts on tastefulness
A few weeks ago, I came across a meme-ified Tumblr post that really made me think. It started with the following quote:
"'Stop saying 15 year with weird interests are cringe, they're 15!'

This is true, however you should also stop saying adults with weird interests are cringe because who gives a [s-word]."
Tumblr user switchelsweets then told a story from her high school art class (click the link to read the whole story). A classmate made an abstract art piece and added a few peacock feathers and sequins, because she liked them! The teacher did NOT like them, but instead of insisting that the students make art that was to her taste, she encouraged the students to make art that THEY loved:
"I do not like this style. These are just elements that do not speak to me personally, but I see that you like them, and you're doing interesting things with them.

"My biggest critique is, I only merely *dislike* this piece. I want you to make me HATE it. Go crazy with the things that you like. Don't hold back trying to make it palatable to people like me. Because I am NEVER going to like it. And if the audience does not like it, it should drive them crazy seeing how much YOU love it."
What does this have to do with knitting, crochet, needlepoint, weaving, etc? You don't need to make things to make other people happy. If you love sparkles, then put sparkles in your projects! If you love neutral colors, then don't let anyone pressure you into adding a "pop of color"! If you like big oversized sweaters, then that is what you should be making!
Fiber arts are arts! You think you're not an artist? No, you absolutely are. The only thing that makes someone an artist is that they make art! Your needlepoint, your crochet, your weaving, your knitting... THEY ARE ART!
Embrace your own likes and dislikes - your own weirdness - and make what you love, and that will truly make it beautiful!
(the "weird" little chicken pictured above is the Chicken Little Weird Pincushion by Barbara Kobayashi, and unfortunately the pattern is no longer available)
---
---
Upcoming Classes
Click the title or thumbnail to learn more and to register
Upcoming events and classes with available openings are listed below. Click the class name to learn more and to register or call us at 210-979-8255. Space is limited and sign-ups close a week before class begins, so sign up now! Note: masks are required for all our classes and private lessons.
Stitching Workshop with Nancy - Masks appreciated but not required
Hang out with Nancy and meet new needlepoint & cross-stitch friends
One sessions - Sat. July 22 at 1 pm - 1 seat available
$20 (use your own supplies or buy them at Yarnivore for 10%)

Knitting: Intarsia Christmas Stocking - Masks Required
Knit a picture into your stocking! Bonus, learn the beautiful Latvian braid technique
Three sessions - Thur. July 13, 20, & 27 at 5:30 pm - 2 seats available
$50 (use your own supplies or buy them at Yarnivore for 10%)
---
Chrismahanukwanzavus in July!
The winter holidays aren't just for humans. Pets are people, too, and some need extra warmth in the winter, so why not make them some cute holiday sweaters?
The sweater shown at right is O Hanukkah! by My Savannah Cottage ($7 in-store or on Ravelry). It comes in sizes to fit dogs with 12-20 inch chests. This one is made from Cascade 220 (100% wool), but if you'd rather have washable wearables for your pooch, it would also knit up beautifully in Vintage (washable acrylic/wool/nylon), or in a 100% cotton yarn like Circulo Duna.
See more knit and crochet holiday pet-wear patterns for for Christmas or Hanukkah on Ravelry.
Hours this week
11-5 Monday-Wednesday
11-7 Thursday & Friday
11-5 Saturday
12-5 Sunday

Upcoming Events
Friday Night Cravings - This Friday, July 14 from 5-7 pm
Spinners & Weavers Meet-Up - This Saturday, July 157 from noon-4 pm

Private Lessons
In-store and online private lessons are available! Please call 210-979-8255 to schedule a lesson! Wendy, Dawn, Moses, and Nancy are all available to help you with your projects! Private Lessons can also be scheduled outside of regular hours at the discretion of the teacher.
---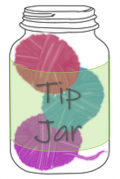 The Tip Jar
A couple of weeks ago, we suggested writing on your patterns in pencil. But some of us are more pen people. Here are some alternatives to pencil for marking up your patterns:
Highlighters, especially good if you plan to do the same pattern in different sizes, since you can use a different color for each size!

Highlighter tape. You can write on the tape itself to make removable notes.
Erasible pens like the Frixion pens (not a sponsored link)

Regular pens that you can't erase. Sometimes it's good to make your notes permanent!
---
To keep up with our activities and real time announcements, please follow us on social media:
Facebook - https://www.facebook.com/yarnivoresa/
Instagram - https://www.instagram.com/yarnivoresa/
Twitter - https://twitter.com/YarnivoreSA

If you have a question for one of our teachers, you can email us at yarnivoresa@gmail.com.
You can also email Wendy with knitting or crochet questions at wendy.yarnivore@gmail.com or contact her through her Facebook page - https://www.facebook.com/Wendy.at.Yarnivore/
---
We absolutely do not EVER want to spam you. If you don't want to get this newsletter, then we will take you off the list. No problem. No questions asked. There's an unsubscribe link below, or you can just call us.