To every chain - Turn, Turn, Turn...

---
---
Turning Chains in Crochet
Does it matter whether you count the turning chain as a stitch or not?
Everyone wants pretty edges on their work, but what's the best way to get pretty edges? Does it matter if you count the turning chain as a stitch or not? Wendy tested it and found that the answer depends on whether you're working a short stitch like single crochet or a tall stitch like double crochet.
For single crochet, it doesn't seem to matter! Below, you'll see two swatches of SC, both with 20 SC per row. In the photo on the left, the turning chain is NOT counted as a stitch. In the photo on the right, it IS counted as a stitch. As you can see, there's very little different in appearance between the two. Maybe the edge is very slightly bumpy when the turning chain isn't counted as a stitch, but the difference is very minor - certainly not worth the extra work of stitching into the turning chain at the end.
Is the difference bigger with double crochet? Yes, they absolutely look different! You can see the bumpy, almost scalloped edges on the left-hand photo below. Bumpy, but - dare I say - not unattractive! If this was the edge of a blanket, I would be quite happy with it! I might even add a bit of a scallop to the top and bottom edges to match. If you need straight edges on your double-crochet, the center photo shows that counting the turning chain as a stitch definitely accomplishes the goal. The edges are much straighter, but they also have a bit of gappiness that I don't really like.
Is there a solution to the gapping problem with straight-edged double crochet? There is! It's an alternative to the turning chain that uses stacked single crochets, and no turning chain at all, and is shown in the right-hand photo below. To read more on the stacked SC alternative, this post from Nana's Crafty Home explains it quite well.
---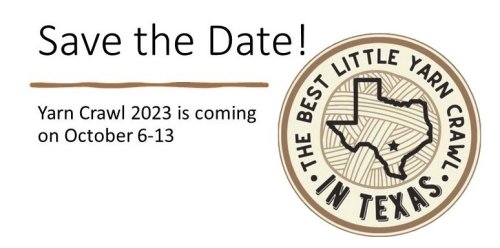 ---
Upcoming Classes
Click the title or thumbnail to learn more and to register
Upcoming events and classes with available openings are listed below. Click the class name to learn more and to register or call us at 210-979-8255. Space is limited and sign-ups close a week before class begins, so sign up now! Note: masks are required for all our classes and private lessons.
Beginning Knitting - Masks Required
Learn the basics and get yourself knitting!
Three sessions - Thursday, August 3, 10, & 17 at 5:30 pm - 4 seats available
$50 (use your own supplies or buy them at Yarnivore for 10%)

Knitting: Field of Seams - Masks Required
Learn the best ways to sew up knitting projects - and alternatives to seaming, as well
Two sessions - Monday, August 7 & 14 at 1 pm - 4 seats available
$35 (use your own supplies or buy them at Yarnivore for 10%)

My First Socks - Masks Required
Knit basic socks from the cuff down!
Three sessions - Sunday, August 13, 27, & September 10 at 2 pm - 4 seats available
$50 (use your own supplies or buy them at Yarnivore for 10%)

Knitting Workshop - Masks Required
Bring your projects and get help with all problem large and small!
Three sessions - Monday, August 21 at 1 pm - 4 seats available
$20 (use your own supplies or buy them at Yarnivore for 10%)
---
Chrismahanukwanzakah in July!
It's the last day of July, and we saved the CUTEST holidays-in-July pattern for today! These teensy-tiny snowpeople are just the sweetest! These are the Mochimochi Snowmen by Anna Hrachovec of Mochimochiland. You may recognize the style, since they're by the same designer as the viral Knitting Gnome Gif! The pattern is $3 in-store, on Ravelry, or on Mochimochiland.com. These tiny toys use equally teensy bits of yarn, so you can probably make them with scraps, but if you want a whole skein of white to make a village of them, Vintage Sock would work great. If you're just wanting to do one or two, you can make them with needlepoint yarn, like Silk & Ivory!
Want cute crocheted snowfolk pattern? Try Flurry, Florrie and Flora by Moji-Moji Design - $6 in-store or on Ravelry!
Hours this week
11-5 Monday-Wednesday
11-7 Thursday
11-5 Friday & Saturday
12-5 Sunday

Upcoming Events
Friday Night Cravings - Friday, Auguts 11 from 5-7 pm
Spinners & Weavers Meet-Up - Saturday, August 19 from noon-4 pm
Yarn Crawl - October 6-13

Private Lessons
In-store and online private lessons are available! Please call 210-979-8255 to schedule a lesson! Wendy, Dawn, Moses, and Nancy are all available to help you with your projects! Private Lessons can also be scheduled outside of regular hours at the discretion of the teacher.
---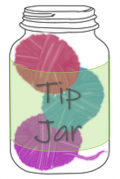 The Tip Jar
Fastening off the last loop of your knit or crochet.
Your patterns says "bind off" or "fasten off", but what does that mean for that final loop? Most knitters and crocheters cut the yarn, then put the yarn end through the final loop and pull it tight. Don't do that! This makes a knot that CANNOT be tidied up.
Instead, cut the yarn and pull on that final loop until its loose strand comes out. Wendy calls this "popping the balloon - think of the last stitch as a balloon and "blow it up" until it pops. At this point, your knitted or crocheted piece can't unravel, but you CAN loosen, tighten, or straighten the last stitch and make it blend into the rest of the work.
---
To keep up with our activities and real time announcements, please follow us on social media:
Facebook - https://www.facebook.com/yarnivoresa/
Instagram - https://www.instagram.com/yarnivoresa/
Twitter - https://twitter.com/YarnivoreSA

If you have a question for one of our teachers, you can email us at yarnivoresa@gmail.com.
You can also email Wendy with knitting or crochet questions at wendy.yarnivore@gmail.com or contact her through her Facebook page - https://www.facebook.com/Wendy.at.Yarnivore/
---
We absolutely do not EVER want to spam you. If you don't want to get this newsletter, then we will take you off the list. No problem. No questions asked. There's an unsubscribe link below, or you can just call us.