Brighter, Better, Softer, Stronger....

---
---
Carry Me Along
Fancy thread - for needlepoint and a lot more!
Needlepointers & cross-stitchers have a secret magic trick to add texture & sparkle to their work - specialty threads that can be used on their own or held together with regular floss or tapestry yarn! These threads may be metallic, velvet, shiny silk, or fuzzy mohair - or any combination of the above. Well, it's not secret anymore! Many of these specialty threads work really well for knitting, crochet, and weaving, too!
It's not been entirely secret. Sock knitters sometimes use an extra thread when working on heels and toes. Most often, this reinforcing thread is a lace-weight wool/nylon blend. Other common reinforcements include laceweight mohair for cozy strength, silk for shiny strength, and wooly nylon (a fuzzy 100% nylon thread often used in sergers). The idea of reinforcement thread is that it will provide a framework for holding the sock together if the actual sock yarn begins to wear through, allowing repair before a hole appears. For reinforcement, you usually choose a color that blends with your sock yarn, but you can choose one that stands out and makes a statement, like the Creative Make It Neon wooly nylon. You may also want to try reinforcement thread for any project that might take heavy wear, like bags, gloves, and outerwear.
Specialty threads can also be used for fancy effects in your knitting, crochet, or weaving, and you can grab them straight from the needlepoint section! Granted, many of these don't have enough yardage for an entire project, but that's okay, because they can still make an impact! Try holding some shimmer thread together with your yarn at cuffs and neckline (you'll probably have to go down another needle/hook size), or adding a few strands into the tassels on a scarf!
Making a Christmas stocking? Add a bit of Fuzzy Stuff (that's its real name) to Santa's beard or to make a snowman look sparkly and fluffy.
Next time you're looking for a yarn that's a little bit "extra," remember that it's okay to borrow from the needlepoint section to add that little something special!
---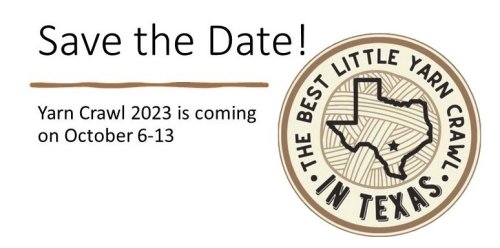 ---
Upcoming Classes
Click the title or thumbnail to learn more and to register
Upcoming events and classes with available openings are listed below. Click the class name to learn more and to register or call us at 210-979-8255. Space is limited and sign-ups close a week before class begins, so sign up now! Note: masks are required for all our classes and private lessons.
Knitting Workshop - Masks Required
Bring your projects and get help with all problems large and small!
One session - Monday, August 21 at 1 pm - 1 seats available
$20 (use your own supplies or buy them at Yarnivore for 10%)


Intermediate Knitting - Masks Required
Learn to increase, decrease, and knit in the round to make your first hat!
Three sessions - Thursday, August 24, 31, and September 7 at 5:30 pm - 4 seats available
$50 (use your own supplies or buy them at Yarnivore for 10%)

Double Knitting - Masks Required
Reversible knitting with no curling! Wendy will teach you how!
Two sessions - Monday, August 28 & September 4 at 1 pm - 4 seats available
$50 (use your own supplies or buy them at Yarnivore for 10%)

Stitching Workshop with Nancy - Masks Appreciated, but not required
Bring your needlepoint or cross stitch projects for support, problem-solving, and camaraderie
Upcoming Dates -
Sunday, September 3 at 1 pm - class is full
Sunday, September 3 at 3 pm - 4 seats available
Sunday, October 1 at 1 pm - 2 seats available

Sunday, October 3 at 1 pm - 4 seats available
$20 (use your own supplies or buy them at Yarnivore for 10%)
---
Spooky in the Summer!
Today's pattern is for the most beautiful handmade fairy wings we've ever seen! Crocheted Fairy Wings by Grace Moth (isn't that just the BEST name for someone who designed wings?) is available only on Ravelry for just under $7. It would make a great dress-up item for anyone from kids to adults. It uses aran-weight cotton yarn in solid colors, making Coastal Cotton a great choice! It would also work up beautifully in a multi-colored yarn like Duna Multicolor or Summer Sesame.
If you want to add some magical neon shimmer to this or any other project, try adding a carry-along thread like the Creative Make It Neon fuzzy nylon!
Hours this week
11-5 Monday-Wednesday
11-7 Thursday
11-5 Friday & Saturday
12-5 Sunday

Upcoming Events
Spinners & Weavers Meet-Up - Saturday, August 19 from noon-4 pm
Friday Night Cravings - Friday, September 8 from 5-7 pm
Best Little Yarn Crawl in Texas - October 6-13

Private Lessons
In-store and online private lessons are available! Please call 210-979-8255 to schedule a lesson! Wendy, Dawn, Moses, and Nancy are all available to help you with your projects! Private Lessons can also be scheduled outside of regular hours at the discretion of the teacher.
---
Slip knots are necessary for many yarn crafts, but many find it hard to remember how to do them. The common "pretzel" illustration just makes it harder! Here's an easy way to remember how to make a slip knot:
Twist your yarn into a loop. Pull another loop through the first loop. Hold on to the new loop while you pull both yarns to tighten.
---
To keep up with our activities and real time announcements, please follow us on social media:
Facebook - https://www.facebook.com/yarnivoresa/
Instagram - https://www.instagram.com/yarnivoresa/
Twitter - https://twitter.com/YarnivoreSA

If you have a question for one of our teachers, you can email us at yarnivoresa@gmail.com.
You can also email Wendy with knitting or crochet questions at wendy.yarnivore@gmail.com or contact her through her Facebook page - https://www.facebook.com/Wendy.at.Yarnivore/
---
We absolutely do not EVER want to spam you. If you don't want to get this newsletter, then we will take you off the list. No problem. No questions asked. There's an unsubscribe link below, or you can just call us.