Lend us your ear

---
---
Yarnivore is Opening a Library
We're accepting donations, too...
Over the years, we've occasionally had people donate yarn, needles, hooks, and other yarn-craft items for charity. We have given lots of yarn and tools to teachers, schools, shelters, and non-profits. We would also get donations of books and magazines, but it's harder to find homes for those, so we've wanted for years to open up a Yarnivore Lending Library.
Well, it's actually happening!
We have nearly 200 books on all sorts of topics - knitting, crochet, weaving, spinning, felting, macramé, dyeing, and more - all catalogued and ready! We're working on getting library software installed so that y'all can check out books and materials!
How will this work? Well, running a library takes resources, so our library will be membership-based. Membership cost will be low, averaging about the cost of one book. We will have some sponsored memberships available for those who can't afford the regular membership fee. You'll be able to check out books (and we even have 1 DVD) as often as you like!
We also have a large number of vintage crafting magazines and individual patterns, and we decided that we didn't want to catalog and track all of them, so we'll be giving them away!
Why are we telling you now, when our Yarnivore Library isn't even open yet? Because we thought you might like to help! If you have books, videos, or other resources that you want to share, we would welcome your donations!
We're crossing our fingers that this little library idea works out. Stay posted for more!
---
---
Upcoming Classes
Click the title or thumbnail to learn more and to register
Upcoming events and classes with available openings are listed below. Click the class name to learn more and to register or call us at 210-979-8255. Space is limited and sign-ups close a week before class begins, so sign up now! Note: masks are required for all our classes and private lessons.

Intermediate Knitting - Masks Required
Learn to increase, decrease, and knit in the round to make your first hat!
Three sessions - Thursday, August 24, 31, and September 7 at 5:30 pm - 4 seats available
$50 (use your own supplies or buy them at Yarnivore for 10%)

Double Knitting - Masks Required
Reversible knitting with no curling! Wendy will teach you how!
Two sessions - Monday, August 28 & September 4 at 1 pm - 3 seats available
$50 (use your own supplies or buy them at Yarnivore for 10%)

Stitching Workshop with Nancy - Masks Appreciated, but not required
Bring your needlepoint or cross stitch projects for support, problem-solving, and camaraderie
Upcoming Dates -
Sunday, September 3 at 1 pm - 2 seats available
Sunday, September 3 at 3 pm - 3 seats available
Sunday, October 1 at 1 pm - 2 seats available

Sunday, October 1 at 3 pm - 3 seats available
$20 (use your own supplies or buy them at Yarnivore for 10%)
Knitting Workshop - Masks Required
This is an open class for any kind of knitting help!
Upcoming Dates -
Thursday, September 14 at 5:30 pm - 4 seats available
Thursday, September 24 at 2 pm - 4 seats available
$20 (use your own supplies or buy them at Yarnivore for 10%)

---
Spooky in the Summer!
This year, why not make the kiddos a reusable knitted-then-felted Candy Bag! The Halloween Bag from The Knit Cafe Toronto is knitted with Lamb's Pride Worsted, then felted in the washing machine for a super durable bag that will hold all the candy a young ghould could want! The pattern is approx $3.85 in-store or on Ravelry.
Product News
New! Verbena, a super-bulky acrylic/wool/viscose blend that will work up super fast for oh-so-soft garments, accessories, and blankets! Free patterns at circulo.com
Amigurumi Kits! We have restocks, plus some new kits, including Sesame Street characters, Halloween, and other seasonal and baby kits!
Zipper Totes are restocked!

Hours this week
11-5 Monday-Wednesday
11-7 Thursday
11-5 Friday & Saturday
12-5 Sunday

Upcoming Events
Spinners & Weavers Meet-Up - Saturday, August 19 from noon-4 pm
Friday Night Cravings - Friday, September 8 from 5-7 pm
Best Little Yarn Crawl in Texas - October 6-13

Private Lessons
In-store and online private lessons are available! Please call 210-979-8255 to schedule a lesson! Wendy, Dawn, Moses, and Nancy are all available to help you with your projects! Private Lessons can also be scheduled outside of regular hours at the discretion of the teacher.
---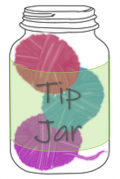 The Tip Jar
Want to do a felted project, but you have a front-load washer? No Worries! You can totally felt things in a front-loader!
Here's more information from The Spruce Crafts:
How to Felt Wool Knits With a Front-Loading Washing Machine
---
To keep up with our activities and real time announcements, please follow us on social media:
Facebook - https://www.facebook.com/yarnivoresa/
Instagram - https://www.instagram.com/yarnivoresa/
Twitter - https://twitter.com/YarnivoreSA

If you have a question for one of our teachers, you can email us at yarnivoresa@gmail.com.
You can also email Wendy with knitting or crochet questions at wendy.yarnivore@gmail.com or contact her through her Facebook page - https://www.facebook.com/Wendy.at.Yarnivore/
---
We absolutely do not EVER want to spam you. If you don't want to get this newsletter, then we will take you off the list. No problem. No questions asked. There's an unsubscribe link below, or you can just call us.