Buttonholes Aren't Scary!

---
---
Don't Fear the Buttonholes
They're really not that hard!
Did you know that the first buttons were used purely for decoration? And if you knew that, did you know that the reason for that is because no one had figured out how to make proper buttonholes yet? Yup, without something to button through, buttons are pretty useless!
Nowadays, sewists have a much easier time making buttonholes - many home sewing machines can do them automatically! But knitters and crocheters have a little bit harder time with them. Today, we'll talk about solutions to the buttonhole problem.
For both knitters and crocheters: It's completely okay to use some leftover yarn to stitch around your buttonholes to make them firmer. You can use either a whip stitch, buttonhole stitch, blanket stitch, or just do slip stitch crochet around the buttonhole.
Crochet Buttonholes
If you're making a cardigan with double crochet, you may find that you don't need buttonholes. There may be enough space between stitches to just button right through the crocheted fabric. The downside to this is that the fabric may get stretched out. So most buttoned crochet patterns include a button band in single crochet. Making a buttonhole is pretty straightforward. Work in SC to the place where you want your button, chain 2 or 3 stitches (enough to just barely fit over your button, then skip that many stitches and resume SC, leaving buttonhole space.
Another way is to make picot buttonholes. This is especially nice if you're using very small buttons. Work a SC border, and wherever you want a buttonhole, chain 2-5 stitches (depending on your gauge), but don't skip any spaces below. Just resume SC where you left off, leaving cute little button loops.
Knit Buttonholes
The easiest buttonholes to knit are little yarnover ones. Wherever you want a buttonhole, just work (YO, K2tog). This makes a small tidy buttonhole, though it's not as small as you would think. In worsted weight yarn, you may be able to use a (YO, K2tog) buttonhole for buttons up to an inch in diameter!
If you need a bigger buttonhole, your pattern will usually say "bind off X number of stitches", and then on the next row, you'll cast on the same number. That works, but it's kind of sloppy. If you want it to look nice and neat, stop one stitch before the bind off, work a KFB increase, then start binding off by knitting only one stitch, then pass the increased stitch from the KFB over the new stitch. Continue binding off until you've bound off 1 stitch more than that pattern recommended (this gets rid of the extra stitch created by the increase). When you cast on the new stitches on the next row, start by working KFB in the last stitch before casting on, then cast on the full number they asked for (you'll have one extra stitch), place the last cast-on stitch on the left hand-needle and knit it together with the next stitch. This makes a really tidy and strong buttonhole.
Next week, we'll talk about alternatives to buttonholes, if you really HATE doing them, but still like buttoning things!
-Happy Hole-ing!
---
---
Upcoming Classes
Click the title or thumbnail to learn more and to register
Upcoming events and classes with available openings are listed below. Click the class name to learn more and to register or call us at 210-979-8255. Space is limited and sign-ups close a week before class begins, so sign up now!


Stitching Workshop with Nancy - Masks Appreciated, but not required
Bring your needlepoint or cross stitch projects for support, problem-solving, and camaraderie!
Upcoming Dates -
Sunday, October 1 at 1 pm - 2 seats available
Sunday, October 1 at 3 pm - 2 seats available
$20 (use your own supplies or buy them at Yarnivore for 10% off)




Field of Seams (Knitting) - Masks Required
Learn to sew up your knitted pieces so that they look great and have
very little bulk, as well as alternatives to seaming!
Monday, September 11 & 18 at 1 pm - 4 seats available
$35 (use your own supplies or buy them at Yarnivore for 10% off)




Knitting Workshop - Masks Required
This is an open class for any kind of knitting help!
Upcoming Dates -
Thursday, September 14 at 5:30 pm - 3 seats available
Thursday, September 24 at 2 pm - 4 seats available
$20 (use your own supplies or buy them at Yarnivore for 10% off)



Beginning Crochet - Masks Appreciated, but not required
Get hooked on crochet with Moses!
Saturday, September 16 & 23 at 1 pm - 4 seats available
$35 (use your own supplies or buy them at Yarnivore for 10% off)

Fixing Knitting Mistakes - Masks Required
Don't worry! Those mistakes can be fixed! (it's even kinda fun)
Thursday, September 21 & 28 at 5:30 pm - 4 seats available
$40 (Supplies are included!)
Crochet A Granny Square Bag - Masks Appreciated, but not required
Grannies are cool! Make this cute Granny Square backpack!
Saturday, September 30 & October 6 at 1 pm - 4 seats available
$35 (use your own supplies or buy them at Yarnivore for 10% off)
---
Button, Button, We've Got the Buttons!!
If you're looking for unique buttons, you'll definitely want to check out Yarnivore's button stash! We've got big buttons for making a statement, little buttons for quiet charm, colorful buttons, wooden buttons, crystal buttons. You'll want to stop by the shop to see them all - not all of our buttons are available on the web-shop.
We also have some button alternatives, including clips, toggles, and clasps of various kinds, as well as shawl pins and magnets.
Shown at right, a large statement-making button that doesn't need a buttonhole! You sew the triangle on one side and the button on the other - the triangle IS the buttonhole! It comes in blurple (shown), black, and dark red.
Hours this week
11-5 Monday-Wednesday
11-7 Thursday & Friday
11-5 Saturday
12-5 Sunday

Upcoming Events
Friday Night Cravings - This Friday, September 8 from 5-7 pm
Spinners & Weavers Meet-Up - Saturday, September 16 from noon-4 pm
Best Little Yarn Crawl in Texas - October 6-13

Private Lessons
In-store and online private lessons are available! Please call 210-979-8255 to schedule a lesson! Wendy, Dawn, Moses, and Nancy are all available to help you with your projects! Private Lessons can also be scheduled outside of regular hours at the discretion of the teacher.
---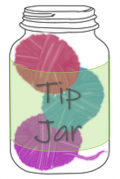 The Tip Jar
We love not having to weave in ends, and one of the best ways to do that is to join a new yarn with spit splicing. BUT - we don't always want to have saliva in our yarn. Thankfully, there's an alternative! Hand-sanitizer works just as well!
Try it next time you're working with a hand-wash-only wool or animal-fiber yarn: Shred the two ends of the yarn a bit, overlap them in your hand by about an inch, squirt on just enough hand sanitizer to thoroughly dampen both ends, then vigorously rub them together until they're dry. TA-DA! You've got sani-spliced yarn!
---
To keep up with our activities and real time announcements, please follow us on social media:
Facebook - https://www.facebook.com/yarnivoresa/
Instagram - https://www.instagram.com/yarnivoresa/
Twitter - https://twitter.com/YarnivoreSA

If you have a question for one of our teachers, you can email us at yarnivoresa@gmail.com.
You can also email Wendy with knitting or crochet questions at wendy.yarnivore@gmail.com or contact her through her Facebook page - https://www.facebook.com/Wendy.at.Yarnivore/
---
We absolutely do not EVER want to spam you. If you don't want to get this newsletter, then we will take you off the list. No problem. No questions asked. There's an unsubscribe link below, or you can just call us.