SCORE!

---
---
We Don't Need No Buttonholes!
Read on if you want to fasten things but prefer to avoid buttonholes completely
As we said last week, buttonholes really aren't scary. But - sometimes you'd just rather not. Or maybe the piece is already finished and you didn't realize you wanted a fastener. No worries. You can still button things without buttonholes!
Start out by looking at the MEN'S jewelry! Cuff links make great buttons and they'll fit between stitches in worsted weight or larger yarns. Tuxedo shirt studs do the same thing, but work better in lighter-weight pieces. You can also make faux cuff links by sewing together a large button and a small button. Fasten them by pushing the small button through the stitches on your garment from the right side.
You can also make the buttons purely decorative by sewing them to the outside, and then putting snaps underneath. If you're making kids' clothes, try snap tape - a cloth tape with regularly spaced snaps. You can sew it on by hand or machine. Don't want snaps? You can do the same thing with hook-and-eye sets. You can even get decorative hooks and eyes to sew on the outside of a sweater!
Shawl pins are great fasteners and don't need to be limited to shawls! They make great button alternatives and you can use them to snug up a cowl or a hat that's a little too loose.
If you have some extra yarn, try doing crocheted or i-cord ties. One tie at the neck looks elegant and works great in Texas weather. Multiple ties down the front can also be super cute!
Here's to happy closures!
---
Best Little Yarn Crawl in Texas


2023 Yarn Crawl is October 6th through the 15th

Are you ready to crawl!?
This year's Treasure Hunt Card is live and ready to print!

The card includes a printable map of participating shops and a place for each shop to stamp. The more shops you visit, the more you win!

---
Upcoming Classes
Click the title or thumbnail to learn more and to register
Upcoming events and classes with available openings are listed below. Click the class name to learn more and to register or call us at 210-979-8255. Space is limited and sign-ups close a week before class begins, so sign up now!
Knitting Workshop - Masks Required
This is an open class for any kind of knitting help!
Upcoming Dates -
Thursday, September 14 at 5:30 pm - 2 seats available
$20 (use your own supplies or buy them at Yarnivore for 10% off)


Beginning Crochet - Masks Appreciated, but not required
Get hooked on crochet with Moses!
Saturday, September 16 & 23 at 1 pm - 4 seats available
$35 (use your own supplies or buy them at Yarnivore for 10% off)




Fixing Knitting Mistakes - Masks Required
Don't worry! Those mistakes can be fixed! (it's even kinda fun)
Thursday, September 21 & 28 at 5:30 pm - 3 seats available
$40 (Supplies are included!)
Crochet A Granny Square Bag - Masks Appreciated, but not required
Grannies are cool! Make this cute Granny Square backpack!
Saturday, September 30 & October 6 at 1 pm - 3 seats available
$35 (use your own supplies or buy them at Yarnivore for 10% off)



Stitching Workshop with Nancy - Masks Appreciated, but not required
Bring your needlepoint or cross stitch projects for support, problem-solving, and camaraderie!
Upcoming Dates -
Sunday, October 1 at 1 pm - 2 seats available
Sunday, October 1 at 3 pm - 2 seats available
$20 (use your own supplies or buy them at Yarnivore for 10% off)
---
Calling All Sports Fans!!
Do you knit while watching football or other sports? Have a favorite team? Well, then you might be interested in Skacel's Scoreboard knit-together! This fun season-long project makes a cowl using HiKoo Simplicity (or your favorite DK-weight solid) that records your team's points as they make them. At the end of the season, you'll have a wearable cowl in your team's colors!
Did we mention that there are prizes!? If you sign up at Skacel's Scoreboard page and follow the project through email and social media, you'll be eligible for prize drawings and giveaways throughout the season!
If you're not into football, you can feel free to join anyway - use colors and scores from other sports, or any colors and numbers you like. We won't tell.
Hours this week
11-5 Monday-Wednesday
11-7 Thursday
11-5 Friday & Saturday
12-5 Sunday

Upcoming Events
Spinners & Weavers Meet-Up - Saturday, September 16 from noon-4 pm
Best Little Yarn Crawl in Texas - October 6-15
Friday Night Cravings - Friday, October 13 from 5-7 pm

Private Lessons
In-store and online private lessons are available! Please call 210-979-8255 to schedule a lesson! Wendy, Dawn, Moses, and Nancy are all available to help you with your projects! Private Lessons can also be scheduled outside of regular hours at the discretion of the teacher.
---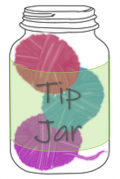 The Tip Jar
We love those LLOOONNNGGGG color changing yarns! But we gotta admit, sometimes we wish the color could change in a different place, or maybe we would like to take just one color out entirely. The good news is - you totally can!
Just break or cut the yarn and remove the section of color you want to change. Then join it back together! If you're using a feltable singles yarn like Kureyon, Silk Garden, or Gina, you can spit splice (or sani-splice) it back together so you won't have any extra ends!
---
To keep up with our activities and real time announcements, please follow us on social media:
Facebook - https://www.facebook.com/yarnivoresa/
Instagram - https://www.instagram.com/yarnivoresa/
Twitter - https://twitter.com/YarnivoreSA

If you have a question for one of our teachers, you can email us at yarnivoresa@gmail.com.
You can also email Wendy with knitting or crochet questions at wendy.yarnivore@gmail.com or contact her through her Facebook page - https://www.facebook.com/Wendy.at.Yarnivore/
---
We absolutely do not EVER want to spam you. If you don't want to get this newsletter, then we will take you off the list. No problem. No questions asked. There's an unsubscribe link below, or you can just call us.