Fall is almost here!

---
---
Falling into Autumn
What to make and wear when fall feels too summery
Autumn equinox is this Saturday, which means that fall starts this week! We always look forward to the beginning of autumn, but the forecast says it will be a warmer-than-usual autumn across the whole northern hemisphere - which means south Texas will still feel pretty summery for a while.
Not to fear, though! You can still enjoy sweaters and pumpkin spice lattes - just make sure to get your PSL iced and have a look at these ideas for staying cool while feeling cozy.
Natural Fibers are your friends! This is not the time for 100% acrylic. It doesn't absorb moisture, it doesn't wick it away, and it doesn't breathe. Look for yarns with at least 70% natural fibers. Wool is the absolute best for wicking moisture away, and it absorbs the most (up to 30% of its weight) while still feeling dry. Cotton and linen absorb a little faster, and linen is actually anti-microbial (which helps prevent odors).

Layer up! I know you hear it all the time, but it does help! Even though it's still hot at midday, it is already starting to be a little cool in the mornings. Start off the day with a handmade cardigan or shawl, and ditch it when you get too hot.

Use autumnal colors! Look for the deeper, warmer colors - brown, rust, teal, pine, charcoal - to get that "leaves are turning" sensation even if the actual trees are still annoyingly green. You can also change just your accessories to autumn colors, to give a sense of autumnal calm to the summer garments.

Lighten up! Leave the bulky and worsted yarns put away and make projects with fingering and DK/sport weight yarn. Or try some lace weight projects. If you make actual lace, that's even better, since it definitely lets a breeze through.
---
Zorn Junction Trunk Show!
Saturday, September 30, 11 am-4 pm
Come by to stitch and chat and have a look at Zorn's beautiful yarns!
Zorn Junction is a south Texas indie dyer specializing in boutique batches of unique colors and combinations that should inspire fiber lovers! Find Zorn Junction at Yarnivore, fiber festivals and their website. She will feature her most popular Hippie Girl Sock yarn, Tumbleweed Alpaca Ultra Fine & Bulky, Suri Alpaca Fuzzy Cloud, and her newest Slub in Merino.
Carolyn will be at Yarnivore from 11-4, come see her yarns and pattern inspirations!
---
Best Little Yarn Crawl in Texas

!
2023 Yarn Crawl is October 6th through the 15th

Are you ready to crawl!?
This year's Treasure Hunt Card is live and ready to print!

The card includes a printable map of participating shops and a place for each shop to stamp. The more shops you visit, the more you win!

---
Upcoming Classes
Click the title or thumbnail to learn more and to register
Upcoming events and classes with available openings are listed below. Click the class name to learn more and to register or call us at 210-979-8255. Space is limited and sign-ups close a week before class begins, so sign up now!

Fixing Knitting Mistakes - Masks Required
Don't worry! Those mistakes can be fixed! (it's even kinda fun)
Starts this Thursday, September 21 & 28 at 5:30 pm - 2 seats available
$40 (Supplies are included!)
Crochet A Granny Square Bag - Masks Appreciated, but not required
Grannies are cool! Make this cute Granny Square backpack!
Saturday, September 30 & October 6 at 1 pm - 2 seats available
$35 (use your own supplies or buy them at Yarnivore for 10% off)



Stitching Workshop with Nancy - Masks Appreciated, but not required
Bring your needlepoint or cross stitch projects for support, problem-solving, and camaraderie!
Upcoming Dates -
Sunday, October 1 at 1 pm - 2 seats available
Sunday, October 1 at 3 pm - 1 seat available
$20 (use your own supplies or buy them at Yarnivore for 10% off)

Knitting Workshop - Masks Required
Come knit with Wendy! This is for knitters of any skill level with any kind of project!
Upcoming Dates -
Monday, October 2 at 1 pm - 4 seats available
Monday, October 16 at 1 pm - 4 seats available
$20 (use your own supplies or buy them at Yarnivore for 10% off)

---
Euphoria Knit Club Yarn!!
Local Dyer Alert! Euphoria Knits has been making special edition monthly colorways that will not come again. Janessa dyes these beautiful colorways on her Frenzy sock yarn base (85% superwash merino/15% nylon) and they really are something special. She has some suggestions of knit and crochet patterns on the Euphoria Knit Club tab on her website, or you can check the Frenzy page on Ravelry to see what others have made. Even better, each Knit Club yarn also comes with a free matching sticker (while supplies last)! The current knit club colorway is "Bee Happy" (not shown), and past months include Knit Owl, Summer Stitches, Blossoms, Knit Happens (coffee), and London Fog (all shown at right with their stickers)
Hours this week
11-5 Monday-Wednesday
11-7 Thursday
11-5 Friday & Saturday
12-5 Sunday

Upcoming Events
Zorn Junction Trunk Show - September 30
Best Little Yarn Crawl in Texas - October 6-15
Friday Night Cravings - Friday, October 13 from 5-7 pm
Spinners & Weavers Meet-Up - Saturday, October 21 from noon-4 pm

Private Lessons
In-store and online private lessons are available! Please call 210-979-8255 to schedule a lesson! Wendy, Dawn, Moses, and Nancy are all available to help you with your projects! Private Lessons can also be scheduled outside of regular hours at the discretion of the teacher.
---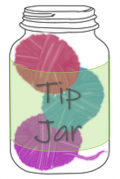 The Tip Jar
Hints for layering season:
You can wear shawls with anything! Even a really fancy shawl looks great just over a t-shirt.

Carry a bigger bag so you can stuff your top layer in it while you're out and about.

Layer your bed, too! Put a shawl or two over the bedspread so that it will give extra insulation for your feet (or anywhere you need extra warmth).

2 or 3 very light layers will work better than 1 heavy one!
---
To keep up with our activities and real time announcements, please follow us on social media:
Facebook - https://www.facebook.com/yarnivoresa/
Instagram - https://www.instagram.com/yarnivoresa/
Twitter - https://twitter.com/YarnivoreSA

If you have a question for one of our teachers, you can email us at yarnivoresa@gmail.com.
You can also email Wendy with knitting or crochet questions at wendy.yarnivore@gmail.com or contact her through her Facebook page - https://www.facebook.com/Wendy.at.Yarnivore/
---
We absolutely do not EVER want to spam you. If you don't want to get this newsletter, then we will take you off the list. No problem. No questions asked. There's an unsubscribe link below, or you can just call us.