Skip Navigation
Website Accessibility
Yarn Crawl Starts Friday!

Find us on... Facebook | Instagram | Twitter/X | Pinterest
---
---
Yarn Crawl Starts Friday!

2023 Best Little Yarn Crawl in Texas is October 6-15!
Are you excited? We are! We are getting prizes ready, we have a featured yarn all picked out, we've got a lot of new yarn and notions all stocked up - we are ready to go!
What is Yarn Crawl? It's a yearly 10-day yarn party hosted by all the best yarn shops in the Hill Country. Each shop will have a different featured yarn on sale. Print your FREE Treasure Hunt Card and take it with you as you visit as many participating shops as you can. Each shop will stamp your card. The more you visit, the more chances you have to win one of the Grand Prizes!
There are also door prizes, trunk shows, and fun gifts! And best of all - the chance to meet lots of other yarn lovers!
Yarnivore's featured yarn (which will be 15% off during the Crawl) and our new Pin design will both be announced on Friday! Check our website to get the scoop!
---
Chaos Fiber Trunk Show!
Becky and all her Chaotic Goods will be here all weekend!
Check it out Friday from 11-5, Saturday 11-5, and Sunday noon-5!
---
Upcoming Classes
Click the title or thumbnail to learn more and to register
Upcoming events and classes with available openings are listed below. Click the class name to learn more and to register or call us at 210-979-8255. Space is limited and sign-ups close a week before class begins, so sign up now!
Stitching Workshop with Nancy - Masks Appreciated, but not required
Bring your needlepoint or cross stitch projects for support, problem-solving, and camaraderie!
Every other Sunday, with one session at 1 pm and another at 3 pm
$20 (use your own supplies or buy them at Yarnivore for 10% off)

Upcoming dates & availability-
Sunday, October 29 at 1 pm - 2 seats available
Sunday, October 29 at 3 pm - 2 seat available


Knitting Workshop - Masks Required
Come knit with Wendy! This is for knitters of any skill level with any kind of project!
Every other Monday at 1 pm until the end of the year
$20 (use your own supplies or buy them at Yarnivore for 10% off)

Upcoming dates & availability-
Monday, October 16 at 1 pm - 2 seats available
Monday, October 30 at 1 pm - 4 seats available


Intro to Lace Knitting - Masks Required
Holey Knit Stitch Y'all! Lace knitting is much easier than it looks!
If you can knit and purl, you can do lace!
Thursday, October 19 & 26 at 5:30 pm
$35 (use your own supplies or buy them at Yarnivore for 10% off)




Knitting: Weaving in Ends Invisibly - Masks Required
Tucking in your ends can elevate your kntting so much!
Learn how to do this essential step neatly and invisibly.
Sunday, October 22 at 2 pm
$20 (use your own supplies or buy them at Yarnivore for 10% off)




---
Shop News
Featured Notion
We've got the cutest new point protectors ever!!
These adorable stoppers fit any needles from size 3 to size 13. There are spooky designs, animals, even food! The photo at right shows only a few of the available designs. Check them out in store near the register or have a look online!
Hours this week
11-5 Monday-Wednesday
11-7 Thursday
11-5 Friday & Saturday
12-5 Sunday

Upcoming Events
Best Little Yarn Crawl in Texas - October 6-15
Spinners & Weavers Meet-Up - Saturday, September 16 from noon-4 pm
Friday Night Cravings - Friday, October 13 from 5-7 pm

Private Lessons
In-store and online private lessons are available! Please call 210-979-8255 to schedule a lesson! Wendy, Dawn, Moses, and Nancy are all available to help you with your projects! Private Lessons can also be scheduled outside of regular hours at the discretion of the teacher.
---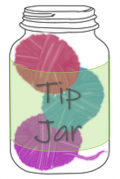 The Tip Jar
If you're frogging your knit or crochet project and the stitches are resisting your efforts & sticking together too much, try giving them a good hard stretch. That will usually pop the stitches apart. If they're really velcroed together (especially with fuzzy haloed yarns), it's okay to pull them apart just like velcro.
It won't hurt the yarn to do that here and there and it will help you undo with much less stress.


---
To keep up with our activities and real time announcements, please follow us on social media:
Facebook - https://www.facebook.com/yarnivoresa/
Instagram - https://www.instagram.com/yarnivoresa/
Twitter - https://twitter.com/YarnivoreSA

If you have a question for one of our teachers, you can email us at yarnivoresa@gmail.com.
You can also email Wendy with knitting or crochet questions at wendy.yarnivore@gmail.com or contact her through her Facebook page - https://www.facebook.com/Wendy.at.Yarnivore/
---
We absolutely do not EVER want to spam you. If you don't want to get this newsletter, then we will take you off the list. No problem. No questions asked. There's an unsubscribe link below, or you can just call us.