Skip Navigation
Website Accessibility
Your Sweaters are AWESOME!

Find us on... Facebook | Instagram | Twitter/X | Pinterest
---
---
Sweater Quality Decline?

Not if you make it yourself!
Have you read that article in the Atlantic? It's titled "Your Sweaters are Garbage" and it describes the reasons for the severe decline in quality of knitwear over the last 20 years. The author uses the photo at left, which shows side-by-side stills of Billy Crystal, taken from When Harry Met Sally, a film from 1989, and Ben Schwarz, recreating Crystal's photo recently, to make the point that modern knitwear, even in high-end markets, is made very cheaply, with poor-quality yarn.
They end the article with suggestions of retailers that still sell real sweaters made in high-quality yarn, and that is absolutely a great way to go!
But, dare we suggest that there's another way to have high-quality, long-lasting, comfortable knitwear that will still look as awesome in 35 years as Billy Crystal's sweater does?
Hand knit and hand crocheted sweaters made with 100% natural fibers will always be in-style! We are here to help you to find the best yarns and patterns for you, and to help you learn techniques to make your sweaters suit you and your loved ones perfectly.
Oh - and if you want to read the article without the paywall, it's available on Archive Today.
---
Local Needlepoint Shop Day!
This Saturday, October 21 - ALL DAY!
Local Needlepoint Shop Day is October 21! Join us in celebrating the love and artistry of needlepoint during this national event!
Yarnivore will be having a Needlepoint Day prize drawing, so be sure to stop by to enter!
---
Upcoming Classes
Click the title or thumbnail to learn more and to register
Upcoming events and classes with available openings are listed below. Click the class name to learn more and to register or call us at 210-979-8255. Space is limited and sign-ups close a week before class begins, so sign up now!
Intro to Lace Knitting - Masks Required
Holey Knit Stitch Y'all! Lace knitting is much easier than it looks!
If you can knit and purl, you can do lace!
Thursday, October 19 & 26 at 5:30 pm - 3 seats available
$35 (use your own supplies or buy them at Yarnivore for 10% off)


Amigurumi Crochet - Masks Required
Moses opens the gates for you to the exciting world of Amigurumi
You'll make your own stuffed penguin friend to keep or give away!
Saturday, October 21 & 28 at 1 pm - 4 seats available
$35 (use your own supplies or buy them at Yarnivore for 10% off)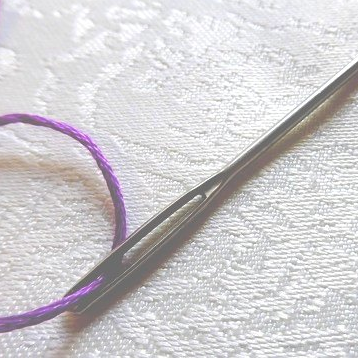 Knitting: Weaving in Ends Invisibly - Masks Required
Tucking in your ends can elevate your kntting so much!
Learn how to do this essential step neatly and invisibly.
Sunday, October 22 at 2 pm - 4 seats available


Stitching Workshop with Nancy - Masks Appreciated, but not required
Bring your needlepoint or cross stitch projects for support, problem-solving, and camaraderie!
Stitch and make friends!
Every other Sunday, with one session at 1 pm and another at 3 pm
$20 (use your own supplies or buy them at Yarnivore for 10% off)
Upcoming dates & availability-
Sunday, October 29 at 1 pm - 2 seats available
Sunday, October 29 at 3 pm - 2 seats available


Knitting Workshop - Masks Required
Come knit with Wendy! This is for knitters of any skill level with any kind of project!
Learn with others in a friendly, supportive environment!
Every other Monday at 1 pm until the end of the year
$20 (use your own supplies or buy them at Yarnivore for 10% off)
Upcoming dates & availability-
Monday, October 30 at 1 pm - 4 seats available
Monday, November 13 at 1 pm - 3 seats available
---
Featured Needlepoint Designs
The counted needlepoint designs from Needlepoint Delights Originals by Kathy Rees are like candy for the eyes. Each pattern has a list of suggested materials, and pages of pattern charts. Work on them section by section and you'll learn all kinds of beautiful stitches and end up with a gorgeous piece of art!
Yarns and fibers are sold separately, and include a variety of textures and colors to highlight your beautiful stitching.
Hours this week
11-5 Monday-Wednesday
11-7 Thursday
11-5 Friday & Saturday
12-5 Sunday

Upcoming Events
Local Needlepoint Shop Day - all day Saturday, October 21
Spinner Saturday - Saturday, October 21 from noon-4 pm
Friday Night Cravings - Friday, November 10 from 5-7 pm

Private Lessons
In-store and online private lessons are available! Please call 210-979-8255 to schedule a lesson! Wendy, Dawn, Moses, and Nancy are all available to help you with your projects! Private Lessons can also be scheduled outside of regular hours at the discretion of the teacher.
---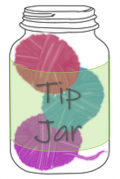 The Tip Jar
If you're winding yarn by hand and you want to wind loosely (as you should), here's an easy way to make sure your ball stays squishy: Keep your hand inside! Start with a core of yarn wrapped around 2 fingers, then remove the core and pinch it between thumb and first two fingers and wrap over your fingers and the core. Every 10 or 15 wraps, remove your fingers, reposition the ball to wrap in a different direction, and wrap over fingers and ball again. Continue until the ball is all wrapped! It should be nice and squishy!


---
To keep up with our activities and real time announcements, please follow us on social media:
Facebook - https://www.facebook.com/yarnivoresa/
Instagram - https://www.instagram.com/yarnivoresa/
Twitter - https://twitter.com/YarnivoreSA

If you have a question for one of our teachers, you can email us at yarnivoresa@gmail.com.
You can also email Wendy with knitting or crochet questions at wendy.yarnivore@gmail.com or contact her through her Facebook page - https://www.facebook.com/Wendy.at.Yarnivore/
---
We absolutely do not EVER want to spam you. If you don't want to get this newsletter, then we will take you off the list. No problem. No questions asked. There's an unsubscribe link below, or you can just call us.