Skip Navigation
Website Accessibility
Don't Forget!

Find us on... Facebook | Instagram | Twitter/X | Pinterest
---
---
What Row Am I On?
Keeping track of projects, even if your memory isn't great
It's really common to lose track of where you are on a project or to forget how to do a certain stitch, especially if you have multiple projects or if you just have a very busy life. And of course, none of us is getting younger, so "senior moments" can be an issue, as well. Here are some ways to help:
Use project bags!
It's easier to find the pattern, notes, tools, etc, if you have it all in one place. Give each project its own bag, whether it's a cute project bag or a re-used grocery bag. Keep all the yarn, the pattern (either the original or a photocopy), needles or hooks, finished swatches/samples, and any notes in the project bag. Make it a habit to always put everything back in the bag and close the bag when you put the down. Bonus - your pets are less likely to get into your project if it's inside a closed bag.
Take good notes!
You don't have to take notes as if you were studying for a test, but you do need to be able to understand what you wrote later.
Notes written on the pattern itself: You can either use post-it notes or write directly in the margins of your pattern. Either way, make sure to show where in the pattern each note refers to. If using sticky notes, put the row number or section. If writing directly, make sure to use arrows or other marks to give context.

Use a notebook: Write down the name of the pattern and the source! Example: Cable pullover, Knit Stuff Magazine, pg. 32. Don't write any numbers without labeling them. If you just write "57", you will be mad at yourself later, because you won't know what that number means. Instead write "57 rows - sleeve" so that you'll know what the number means.

Use a separate notebook for each project.

When you put your project down, write down the row you were on!
Use a row counter!
A row counter is anything you use to keep track of rows. It could be a piece of paper, a row-counting tool, or a digital row counter on your phone or computer. Use it! On paper, you can write a list of rows and cross each one out as you finish it. With a clickable or digital row counter, you have to decide whether the number shown represents the row you're currently working on or the last row you finished. If your counter is lockable, make sure you lock it as you put it back in the project bag. If it's not, write down the last number so that you won't lose your place if the counter accidentally gets clicked.
Mark your work as you go!
Use locking stitch markers or a bit of contrasting thread to mark important rows - either every increase or decrease row, every time you finish a pattern repeat (on an 8 row pattern, mark every 8th row), or every 10th row on plain stitching. You can also mark the right side of the pattern.
You can also use highlighter tape or sticky notes to mark your place on patterns or charts.
Lastly, if you lose your place, you can always bring your project to Yarnivore and we will be happy to figure out where you are!
Happy Stitching!
---
Upcoming Classes
Click the title or thumbnail to learn more and to register
Upcoming events and classes with available openings are listed below. Click the class name to learn more and to register or call us at 210-979-8255. Space is limited and sign-ups close a week before class begins, so sign up now!
Stitching Workshop with Nancy - Masks Appreciated, but not required
Bring your needlepoint or cross stitch projects for support, problem-solving, and camaraderie!
Stitch and make friends!
Every other Sunday, with one session at 1 pm and another at 3 pm
$20 (use your own supplies or buy them at Yarnivore for 10% off)
Upcoming dates & availability-
Sunday, October 29 at 1 pm - 2 seats available
Sunday, October 29 at 3 pm - 2 seats available


Knitting Workshop - Masks Required
Come knit with Wendy! This is for knitters of any skill level with any kind of project!
Learn with others in a friendly, supportive environment!
Every other Monday at 1 pm until the end of the year
$20 (use your own supplies or buy them at Yarnivore for 10% off)
Upcoming dates & availability-
Monday, October 30 at 1 pm - 1 seat available
Monday, November 13 at 1 pm - 3 seats available
Monday, November 27 at 1 pm - 4 seats available
Fixing Knitting Mistakes - Masks Required
Yes, you can fix it! No, you don't have to rip it all out!
Wendy will show you how!
Sunday, November 5 from 1-5 pm
$40 (supplies are provided)




---
Featured Yarn & Pattern
Bamboo Bloom from Universal Yarn has been one of our favorites for years, and we especially love their hand-painted version! It's perfect for simple patterns, because it has a lot of texture and color. (We were excited to learn that Universal Yarn has added several new colors, which are soon heading our way!)
Shown at right, the Kerida Shawl, a free pattern from Universal Yarn. Kerida features garter stitch, drop stitches, and simple increases to make a stunning wrap!
We also love this crochet pattern for Bamboo Bloom Handpaints: the Hanasaku Crochet Cowl is a luxurious oversized wrap with a gorgeous texture!
Hours this week
11-5 Monday-Wednesday
11-7 Thursday
11-5 Friday & Saturday
12-5 Sunday

Upcoming Events
Friday Night Cravings - Friday, November 10 from 5-7 pm
Spinner Saturday - Saturday, November 18 from noon-4 pm

Private Lessons
In-store and online private lessons are available! Please call 210-979-8255 to schedule a lesson! Wendy, Dawn, Moses, and Nancy are all available to help you with your projects! Private Lessons can also be scheduled outside of regular hours at the discretion of the teacher.
---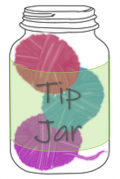 The Tip Jar
Use your old swatches and samples as coasters so that you can stay hydrated while you stitch, but without having condensation dripping all over you!
---
To keep up with our activities and real time announcements, please follow us on social media:
Facebook - https://www.facebook.com/yarnivoresa/
Instagram - https://www.instagram.com/yarnivoresa/
Twitter - https://twitter.com/YarnivoreSA

If you have a question for one of our teachers, you can email us at yarnivoresa@gmail.com.
You can also email Wendy with knitting or crochet questions at wendy.yarnivore@gmail.com or contact her through her Facebook page - https://www.facebook.com/Wendy.at.Yarnivore/
---
We absolutely do not EVER want to spam you. If you don't want to get this newsletter, then we will take you off the list. No problem. No questions asked. There's an unsubscribe link below, or you can just call us.