Skip Navigation
Website Accessibility
Gobble Gobble!

Find us on... Facebook | Instagram | Pinterest
---
---
Happy Thanksgiving!
We are so thankful for all of our Yarnivore community!
Thank you for supporting us, for trusting us to help you with your projects, and for always making it fun to go to work.
We wish you the happiest of holidays!


Kick Off the Holidays at Yarnivore

Della Q Trunk Show and Small Business Weekend
We've got a trunk-ful of cool bags and notions from Della Q here in the shop through Sunday. You'll love getting to see and feel their gorgeous stuff live and in-person!
After we stuff ourselves for Thanksgiving, we'll be opening at 11 on Friday to celebrate Small Business Weekend through Sunday! We're featuring yarns and notions made by independent artisans, and will have FREE GIFTS with purchases over $50 or over $100 as long as supplies last (free gifts are in-store only)!
---
Upcoming Classes
Click the title or thumbnail to learn more and to register
Upcoming events and classes with available openings are listed below. Click the class name to learn more and to register or call us at 210-979-8255. Space is limited and sign-ups close a week before class begins, so sign up now!
Knitting Workshop with Wendy - Masks Required
Come knit with Wendy! This is for knitters of any skill level with any kind of project!
Learn with others in a friendly, supportive environment!
$20 (use your own supplies or buy them at Yarnivore for 10% off)


Upcoming dates & availability-
Monday, November 27 at 1 pm - class is full
Sunday, December 3 at 2 pm - 1 seat available
Monday, December 11 at 1 pm - 1 seat available
Sunday, December 17 at 2 pm - 3 seats available


Fair Isle Christmas Stocking - Masks Required
Make a family heirloom and learn new skills!
No previous sock knitting experience needed
Thursday, November 30, December 7 & 14 at 5:30 pm - 1 seat available
$50 (use your own supplies or buy them at Yarnivore for 10% off)



Stitching Workshop with Nancy - Masks Appreciated, but not required
Bring your needlepoint or cross stitch projects for support,
problem-solving, and camaraderie!
Every other Sunday, with one session at 1 pm and another at 3 pm
$20 (use your own supplies or buy them at Yarnivore for 10% off)

Upcoming dates & availability-
Sunday, December 10 at 1 pm - 3 seats available
Sunday, December 10 at 3 pm - 4 seats available


---
Shop News
Featured Yarn & Pattern
These ear warmers will work up super fast for holiday gift giving. The Bella Earwarmers by Mimi Kezer (Rav link) feature a provisional cast-on (don't worry - it's not hard!) and three different edge options. Finish off with a crocheted flower, or leave the flower off for a less girly option. Pattern is $6 in-store or on Ravelry.
Each ear-warmer uses about half a ball of Noro Silk Garden (worsted weight 45% Silk/45% Mohair/10% Wool) for luxurious softness and amazing colors.
Hours this week
11-5 Monday-Tuesday
11-3 Wednesday
Closed Thursday
11-5 Friday & Saturday
12-5 Sunday

Upcoming Events
Della Q Trunk show - now through Sunday, November 26
Thanksgiving - closing early Wednesday, the 22nd, CLOSED Thursday, the 23rd
Small Business Weekend - Friday, the 24th, through Sunday, the 26th
Friday Night Cravings - Friday, December 8 from 5-7 pm
Bad Frog Yarns Trunk Show - Saturday, December 9 from 11 am-4 pm
Spinner Saturday - Saturday, December 16 from noon-4 pm

Private Lessons
In-store and online private lessons are available! Please call 210-979-8255 to schedule a lesson! Wendy, Moses, Nancy, and Jackie are all available to help you with your projects! Private Lessons can also be scheduled outside of regular hours at the discretion of the teacher.
---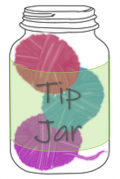 The Tip Jar
If you lose track of your row really easily, you can keep track the old fashioned way - with pencil and paper. Write down the row number before you start it, then cross it off when you finish it. This way you always know what row you're on!
---
To keep up with our activities and real time announcements, please follow us on social media:
Facebook - https://www.facebook.com/yarnivoresa/
Instagram - https://www.instagram.com/yarnivoresa/
Twitter - https://twitter.com/YarnivoreSA

If you have a question for one of our teachers, you can email us at yarnivoresa@gmail.com.
You can also email Wendy with knitting or crochet questions at wendy.yarnivore@gmail.com or contact her through her Facebook page - https://www.facebook.com/Wendy.at.Yarnivore/
---
We absolutely do not EVER want to spam you. If you don't want to get this newsletter, then we will take you off the list. No problem. No questions asked. There's an unsubscribe link below, or you can just call us.